Fall run "DeLoreannual" 2018
October 13, 2018
Free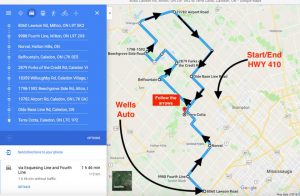 We're gonna do a Fall Run as our last official ODOC get-together for the 2018 season, or as we like to call it; DeLoreannual. Just for convenience, we will do more or less the same route that we did 2 years ago; the Caledon Hills. Attached is a map of the proposed route. We may vary slightly off the map on the day, but it will be more or less as shown.
The day we are looking at is Saturday, Oct 13th. We will start off at 10:00am at Justin's place; Wells Auto, 8060 Lawson Rd, Unit 12, Milton. We will meander through the countryside up into Caledon. We will stop for a coffee in Bellfountain. From there we will venture further into the countryside returning back down to the Terra Cotta Inn for some dinner.
From there, we have two possible endings to the day: We can disperse from Terra Cotta and call it a day if you wish. From there it is a quick drive back to the 410 and back to civilization. I think the route is clear enough on the map.
Everyone is welcome to drop in for a beer at Shecky's house, and disperse from there instead if you prefer. If you prefer not to, that is perfectly fine too.
Also if you would like to opt out of the actual drive, but yet join us for dinner, the place will be The Terra Cotta Inn, 175 King St, Terra Cotta, ON. They have a little pub in the basement and their food is typical pub-style food. Nothing fancy. I hope its location is clear enough on the map. If not, please let us know.
That's it. We hope to see everyone on Sat Oct 13th at Justin's at 10:00am.