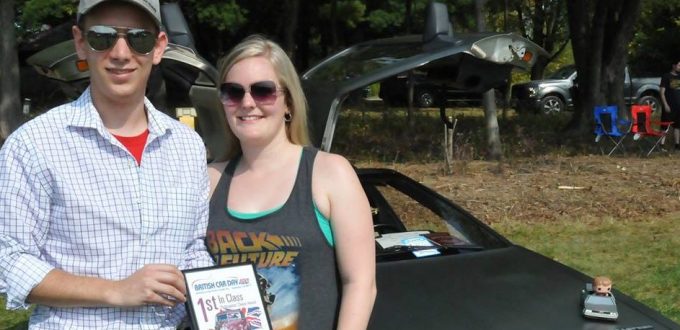 DeLorean One Season Ownership Report
Well, I hate to admit it, but the driving season is winding to a close. All the regular cruise nights have finished for the season and the only car shows I can find online are "Fall Fair" type events. Yup, summer 2017 is done. This summer was a significant one for me since I bought my first DeLorean in April of this year.
This was a long time in the making for me. My fiancée, whom I've been with for over 7 years, was not at all surprised when I approached her with the news that I had found another DeLorean for sale online. She knew I had a mental list of what my dream DeLorean would be, and this one had everything I wanted. When I told her that the car I found was a 1983, with a 5 speed, black interior, UK spec exhaust, and only 41,000 miles, she told me to contact the seller and get a price. Lucky for me the seller was none other than Wells Auto in Milton. This was perfect. I've known the owner of Wells Auto for a few years now, and the shop was about a 15 minute drive. I emailed Wells Auto that day, which was a Friday, and I had purchased the car on Tuesday. Five days was all it took to get everything in order. Of course I didn't just drive away. The car had sat for about a year, so it needed a few minor things: tires, rear suspension, fuel pump. That was probably the longest month ever, waiting to pick up my car.
The delivery date was set at May 7th, 2017 at Wells Auto's annual DeLorean Tech Day. However, the weather department at our local news stations decided to rain on our parade. Tech day was cancelled a few days in advance due to the forecast calling for thunderstorms. I was sad because I couldn't make the rain date, and I was looking forward to showing off my car to other owners, stepping up from Associate Member, to Full Member status. When May 7th did roll around, it turns out the weather people were wrong. It was a beautiful day. My fiancée dropped me off so I could go through a tour of my new car with Justin, the owner of Wells Auto. The sun was out and the stainless was shining. After some driving tips, an email titled "DeLorean Care and Feeding," a test drive, and a few pictures, I drove my dream car home.
I don't think I've ever been to so many car shows in one season. Everyone wanted to see my new car. The car I've been talking about since I was a teenager. This meant going to lots of shows and answering lots of questions from old friends and new friends. I put over 2000 trouble-free miles on my car this summer, driving all over southern Ontario. I was out with my DeLorean about twice a week, every week through the summer. I probably went to 50 shows and cruise nights. I'm more sunburnt than I ever thought I would be, I've walked a crazy amount around parking lots and fields, and ate way too many food truck French fries, and I wouldn't change a thing. My fiancée went with me to almost every major event and answered almost as many questions about the DeLorean as I did. This summer was perfect, but I think maybe it's time I take the car out for just coffee dates for awhile. I don't anticipate doing 50 car shows in a summer ever again, but it was a great experience.